I LOVE MY HUSBAND!
BUT . . . there are times when,
well,
you know.
We have been working hard this week taking a roof off a house that we are flipping. We are taking advantage of a 5 day forecast of "NO RAIN" (I'll believe it when I see it) here in Pennsylvania, hahaha, that's funny, it's summer!
So, when you're up on a roof, with a hammer, a ply-bar and your muscles (or lack thereof) it's important to have a good hearty breakfast, don't you agree?  Our staple breakfast is Old Fashioned Oatmeal with flax seed & whatever fruit might be available with yummy cinnamon or ginger spice, maybe a sprinkle of nutmeg. Yesterday morning, of all mornings, (Day #2 of roofing job) my husband decides to "surprise me" by putting ANISE spice in my oatmeal.  He says, "I only put a little".
So, who's complaining? ME!
Karen, if you have a man that makes you oatmeal in the morning, self says, NEVER COMPLAIN!!! NEVER!  But Anise in oatmeal? Anise is what gives flavor to licorice. In all fairness, I tried. I added a little more milk, and tried not to smell that $#!+ in my breakfast bowl. I tried to be a WOman about it, but I couldn't bear it. THEN, I started burping, which LASTED ALL DAY LONG and I didn't even eat one quarter of the bowl. (Burping, like a woMAN).
As if I didn't bitch enough about that to him, here I am sharing my bitching with the whole wide world . . .
That I am so grateful
That he put something so
AWFUL
In my oatmeal!
Why grateful you ask?
It brought back to me (in all my discomfort and awful disgust and burping anise) one of  the most wonderful memories of my childhood.
When I was a little girl, every Christmas Eve, we would visit our cousins. I remember one year there was a really bad snow storm, but we went anyway. We loved visiting our family and would have such a great time with our cousins. A part of that great time was the amazing cooking of their Mom, Aunt Carol. She was the best cook this side of the Mississippi, maybe even on the other side too. OK, she was possibly the best cook in the world.
She must have spent so much time in that kitchen baking cookies. They were all so tasty and pretty, but there was one that I was convinced only she knew how to make because I had never seen them EVER, anywhere before. So, every year, I would "try" one because they were the prettiest things I've ever seen. Aunt Carole's pizzelle cookies were the most tempting.  I mean, really —wouldn't you just want to eat this lovely thing?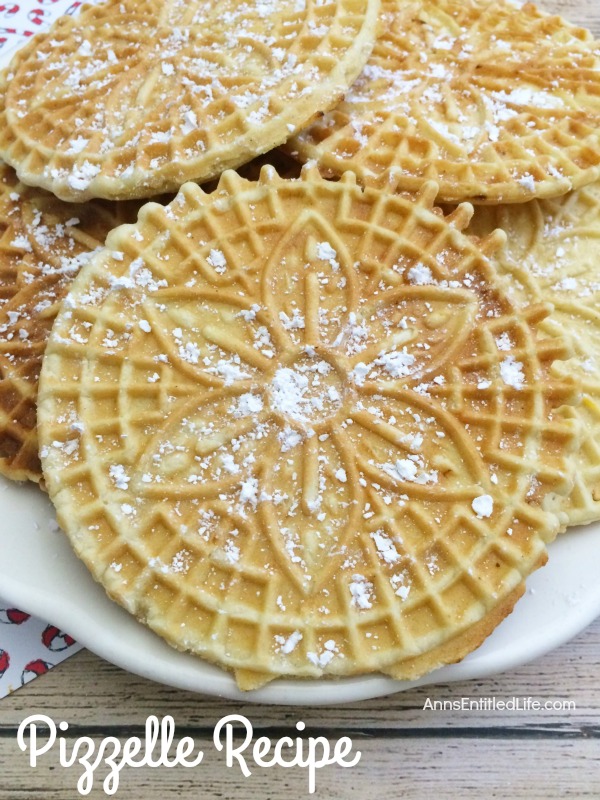 Photo from Ann's Entitled Life
I think I'm right, you would. Of all the cookies, these were the prettiest.
And guess what?
Every year
I HATED PIZZELLES
Why you ask?
Because they have ANISE in them!!!!
That's why.
Today, as I was sweating on that roof, worrying about the danger, burping anise, I ended up thinking a lot about my family.
I thought about Aunt Carol. She passed away just a few months ago after a long battle with cancer. I thought about the bonds of love that surpass time and separation with my cousins. I thought about, not my hate for anise, but my LOVE for the memory of this smiling, beautiful woman.
I find it amazing that something that I ended up bitching about to my husband turned in to a wonderful day of remembrance.  Never underestimate the wonderful power of memory, even at the cost of eating Anise! By the way, Aunt Carol also made the best homemade pizza! Back in the 60's, who made pizza at home? Aunt Carol!
Enjoying the adventure,
Dr. Dink
I understand that most "normal" people like pizzelles, so please try them! You can find the recipe for the beautiful photo above, and other recipes at Ann's Entitled Life Please visit her page for great recipes & home ideas!
_____________________
Please visit my other Blog:  Brown Bag Letter
I encourage you to visit other bloggers. You'll find almost everything imaginable that can be written, in every form, from all over the world!